Rivendell

General Information

Government type
Lordship
Current Ruler(s)
Rumil
Emblem
None
Flag

Claimed Lands
Rivendell, Rivendell Hills
Map of Lands

Capital
Rivendell (Disputed with the High Elves)
Allies
Unknown
Population
9
Used NPCs
High-Elves
Rivendell, also known as Imladris, is currently an unofficial faction founded by
Rumil
on May 17th, 2020. He rules from his seat at Rivendell.
Rivendell is affiliated with the publication Rivendell Times, operated by the Woodman Live media group.
How to Join
Because of the nature of Rivendell's unofficial status and the situation with the High Elves, the faction is currently only accepting players which have been around for a while. New players who are interested, please still reach out! We'd love to get to know you. However, for now, we recommend exploring the mod and if you really want to join, then you can in a couple short months!
Players
Rumil, First lord of Rivendell
Erurehto
Aiglos_
KefinLOTR
Carnifindion
Sartavaryon
monkeyan508
DookieHands
Morgul_Lord
deusexmachina4
Builds
epic builds only B)
Rivendell
The House of Elrond is built south of the waypoint. Construction started on January 28th, 2020, when 14 players aided Rumil in demolishing a mountain in the way. Terraforming (including the addition of countless custom trees) and decorating the interior are currently underway.
KefinLOTR's Homestead
KefinLOTR built a lovely homestead directly at the Rivendell WP.
Erurehto's Homestead
Erurehto's homestead is nearby the House of Elrond. Although fully furnished, the terrain still needs to be completed.
History
Rivendell was established on May 17th 2020 by Rumil and seven other players. Previously a High-Elven city-lord of the waypoint build, the split occurred due to a series of grievances against the High-Elven leadership who were led at the time by DerpyMacDerpFace.
On June 10th, 2020, Rumil hosted Rivendell's first official Mass. In attendance from the Rivendell faction were Rumil, Aiglos_, Morgul_Lord, and Erurehto. Also present were RaymondWang from Angmar, and Noloite from the Woodmen of Mirkwood.
Rivendell was accepted as an official faction by the admins on Speptember 27th 2020.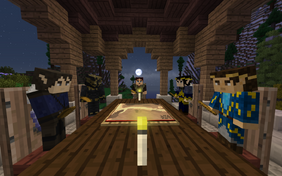 Community content is available under
CC-BY-SA
unless otherwise noted.